T shirts, started out as a garment worn by workers in the 19th century as a convenient covering for hot environments, now become a style of self-expression. By using your own images and words on T-shirts, T shirts can express your likes and dislikes, to advertise your products, websites, to support your opinions, to protest against something or simply amuse yourself and others.
The following 5 websites will allow you to easily create your own T-shirts online and then they will print and make the shipment. You don't need to be an artist to do it. It is very easy and fun experience.
1

Zazzle

Zazzle is a print on demand company that allows you to apply your own photos, designs, texts on T shirts as well as other products like mugs, mouse pads, greeting cards, magnets, stamps. It comes with a very easy tool to let you personalize your T shirts. You can add images or photos by uploading from your computer and add texts using various fonts. After finishing your design, you can view how the shirt looks on a model.
2

Cafepress

Similar to Zazzle, Cafepress also offers various personalized gifts with your own designs on it. Their T shirt design tool seems to be more elegant and slick compared to that of zazzle. In addition to images and texts, you can also add various shapes and clip arts directly from their database, which will surely save a lot time for people who are not sure about how to get started.
3

Customink

Customink is mainly focused on T shirts and other clothing products though they do offer other customized products. Just like Zazzle and Cafepress, they do allow you to add images and texts with different fonts on your T shirts and their tool also comes with a large database of clip arts in various categories, which is handy. Another feature of its T shirt Design software is that it allows you to easily and quickly add multiple names and numbers (up to 25) to the front and back of T shirts, which is useful if are to making team jerseys with personalized names and numbers.
4

Spreadshirt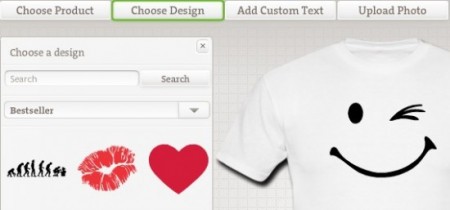 Spreadshirt is a platform specialized in custom T-shirts, custom hoodies and other apparel. with T shirt design tool of Spreadshit, you can add your own photos, write your own personalized texts or using their own designs, which are grouped as bestsellers, music, art, symbols etc. You can also search a design by using their search box to find an element you want to use in your design.
5

ooShirts

ooShirts was started in 2007 with the goal of provide t-shirt printing at a lower price. Their T-shirt design tool is clean and effective. Just like other online T-shirt design software, you can add texts and your own images to design your own T-shirt. They don't have a clip art database for you to choose from, but they seems to allow you upload images with a wider range of formats, including JPG, GIF, BMP, PNG, EPS, PSD, TIFF,PDF etc. Also, you can add outlines to your texts, which is not available on others.