Do you want to see how your photos look like on a famous magazine cover like Playboy? So you guess you need advanced photo editing software like Photoshop and you need a lot of skills to do that? Actually, you can easily put your photos on famous magazine covers and share them with your friends online, without download any software or special skills. Below are 5 online tools that allows do it easily, all you have to do is upload your photos and then choose a magazine cover to get it done.
1

Magmypic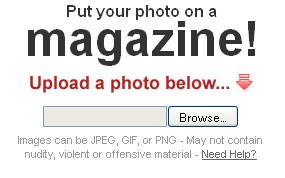 To use Magmypic, simply upload your photos and then you can click and drag your photo to better position your picture on magazine covers. You can also enlarge or shrink your photos if the photo is too large or small. Then you can select a magazine cover template for your photo from 20 comic book covers and 50 magazine covers. The images can be in JPEG, GIF or PNG format. Then you can download your image after a simple registration process.
2

Fakeazine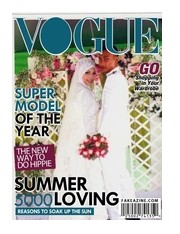 Fakeazine allows you to put your photos on over 100 magazines. Similar to Magmypic, you upload a photo and then adjust your photo by zooming in, zooming out, dragging, specifying the background color and then you can either get the sharing code to post it on your social websites, forums etc or you can download the image to your computer without registration.
3

Fakeamagazinecover

Fakeamagazinecover allows you to put your photos on the cover of many well know magazines ranging from celebrity gossip magazines to kid's learning magazines. There are currently 864 magazine templates in its database so you will have many options. You can also add other effects like text captioning, props, frames etc for you magazine covers. After that, you can download the image or grab the HTML for posting it on blogs, websites etc.
4

Writeiton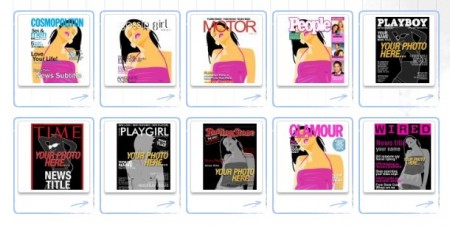 Writeiton allows you to put your photos on famous magazine covers like Playboy, Time, Wired etc. Simply get started by selecting a cover then upload your photos and add a news title and a subtitle if necessary. Finally, you will be able to save your image, or post it on Myspace, Facebook easily. You can upload images up to 8 MB.
5

Enjoypic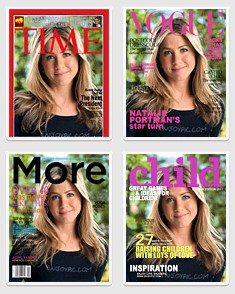 Enjoypic allows you to put your face on over 40 magazine covers like Make Up, Time etc. Simply choose a cover and then upload a photo or use an image on the web, then you may need to tweak the image on the magazine by dragging, resizing or cropping so that it will look best. When you are happy with it, you can download it or share it easily.