Graffiti is kind of art, though also considered vandalism by many people, that appears as images or lettering scratched, painted or marked on various properties like city walls, subway cars, churches, glasses etc. You like it or not, but graffiti as an art form has become increasingly popular and has been appearing in pop culture and its artists has even won great commercial success. The following 5 websites allow you to create graffiti letters online without any additional software or skill. So if you have no idea about graffiti, you may have a try and see how you name look like in a graffiti writing style.
1

GraffitiCreator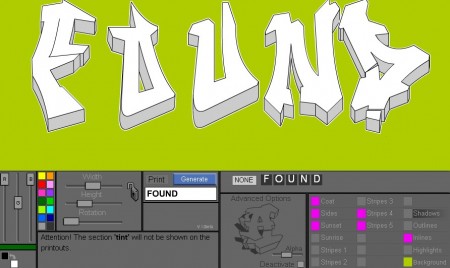 GraffitiCreator.net offers a series of tools to allow you to create graffiti designs from various fonts. First you pick up a font style to get started like Chrome5, JediMind, Wavy, Bubbles, Oldschool etc. Then you will be able to enter your text and start to design. Each letters can be dragged and modified by height, width, size, rotation, alpha, color, fill etc. The interface of design tools for each font may vary but they are generally the same. Once you finish your design, you can print it out but it looks like you can not save them as images. But you can take a screenshot and save it instead. Personally, I think Graffiticreator is a powerful one and can help you make really gorgeous graffiti designs except that you may need some time to get familiar with all its features and interface.
2

Satisfaction Graffiti Creator

This tool from satisfaction.com allows you to create graffiti designs easily. Simply enter your text, choose a font and then choose from four effects including bevel, blur, shadow, glow. Then take your time and tweak your effect settings. You can enter multiple lines of text and there are four fonts for you to choose from. But you can not modify every letter separately.  After finishing your design, you can get the html code to paste it on your social profiles on websites like MyYearBook, Friendster, Hi5, blogs or websites.
3

Graffiti Widget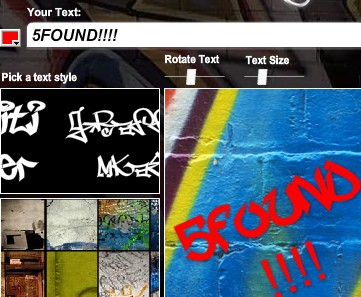 Graffti Widget allows you to create graffiti designs using a lot wall backgrounds. You first enter your text and choose colors, sizes, rotations, graffiti fonts for your graffiti designs. You can not make modifications to each letter separately just as you do on Graffiticreator.net. The good thing is that you have a lot of graffiti fonts to choose from and you can use and add different wall themes  to your designs as a background which makes the design  more real.
4

GraffWriter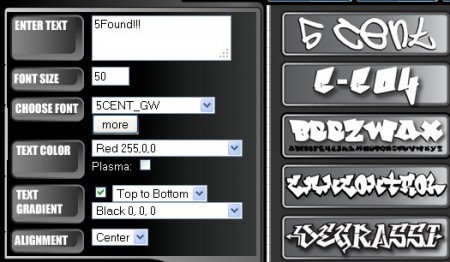 GraffWriter offers a graffiti creator with many options. They include professional graffiti fonts, text color, text gradient, alignment, background color or gradient as well as up to 15 effects. You can also just enter you text and choose from their preset styles so that you can quickly create a good graffiti design without going through so many settings and selections.
5

Graffitigen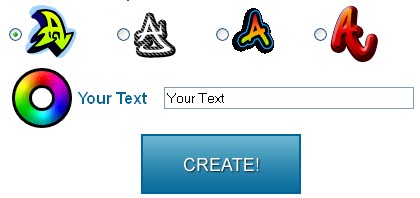 Graffitigen is a pretty easy generator. Simply enter your text, choose from its four graffiti styles and pick a color. It doesn't offer any other feature so your design may be very limited. After generation, you can get different html codes to put it on websites, forums etc. But there will be  watermarked links on your design.