In the earlier post, we have covered 5 background generators to create backgrounds with various patterns. But none of them can generate a stripe pattern. Compared to creating a stripe pattern from the scratch using desktop software, these easy-to-use online stripe generators surely will get things done quickly.
1

Stripemania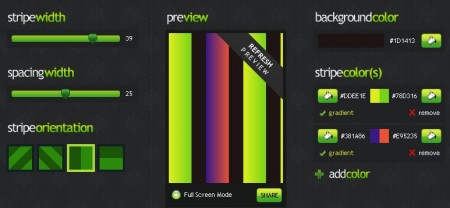 Stripemania allows you to create stripes in seconds. You can specify the stripe width, spacing width between stripes, strip orientation, background color, stripe colors. As for strip colors, you can use gradient or use a single color. You can also add different colors to up to 5 different stripes. When everything is OK, you can preview it and then download it for your own use.
2

Stripegenerator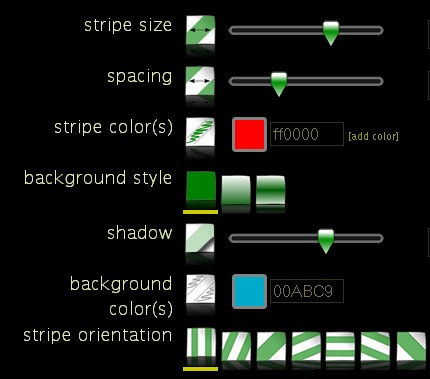 As for Stripegenerator, everything works nearly the same as Stripemania. But it also has some features that Stripmania dosen't offer. For the background, you can specify the gradient styles, shadows and You have more options for stripe orientation, up to 8. Lastly, you can decide whether to make stripes tiled.
3

Stripedbgs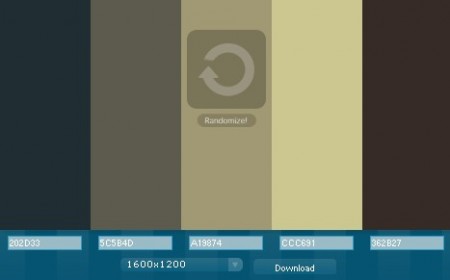 This tool from stripedbgs allows you to generate vertical striped backgrounds in different sizes. It has five slots for your to enter colors and no options for size or orientation and anything else. So the only thing you can do is enter colors for each stripes and pick a resolution to generate. By the way, if you feel boring to enter colors codes for 5 slots is boring, just keep hitting "Randomize!" in the center until you are satisfied.
4

Stripe Maker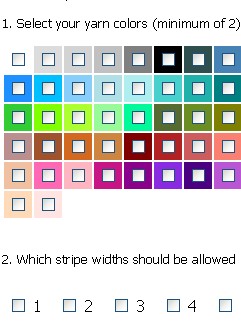 Stripe Maker from biscuitsandjam.com allows to generate horizontal stripes easily. It allows you to choose from different color for stripes, specify stripes width as rows, which could be rows from 1 to 20. Also, you can specify how many rows total you want to generate and after that you can create and download it.
5

Patternizer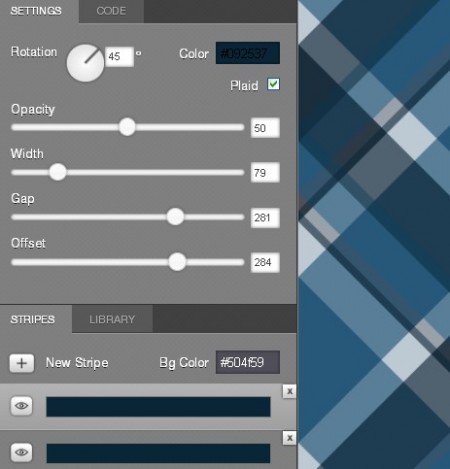 Compared with the 4 stripe generator above, Patternizer is more flexible and user-friendly. Some unique features include you can set rotation, opacity,color, etc for every stripe. As for the number of stripes you can add, there seems no limits. and the rotation degree can be any value you like, this makes Patternizer not only a stripe pattern generator but also a grid pattern generator. So with this Patternizer, you will be able to generate any stripe or grid pattern design you like.