Online Text to Speech software can help you convert selected text or document to voice so that you can listen to them instantly or save it as an audio format for later use. This technology is very useful for people who can not read prints for a variety of reasons, like people with visual impairments or reading problems, or people simply don't have time to read an ebook but prefer to listening while driving? Below are 5 online text to speech software that you can have a try.
1

vozMe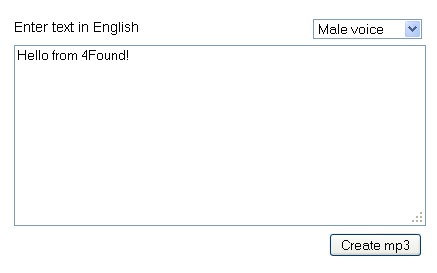 vozMe allows you to enter your text and it instantly creates a MP3 of your text. You can listen to it first and then save it as MP3 files on your computer. vozME support male voice and female voice. Now languages supported include English, Spanish, Italian, Hindi, Portuguese and Catalan. vozMe also offers a bookmarklet to install on your browser so that when you browse pages you can select any text to listen to.
2

ABC2MP3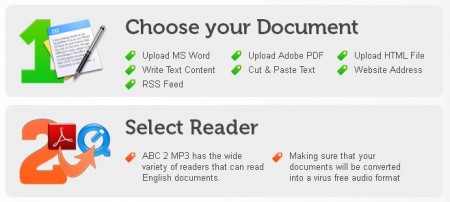 ABC2MP3 enables you to enter and convert up to 2000 words without registration. But if you register a free account with them, you will be about to convert various documents like doc, pdf, websites, rss feeds etc. ABC2MP3 now only supports English and allows you to choose American accents and British accents in male and female voice. Also you can control the speed of reading speed. You can not listen to them online, the MP3 file will be sent to your email address your provided or you can download directly.
3

Festvox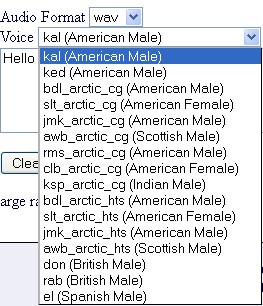 The tool from Festvox allows you to enter text and it converts it to an audio for you to download. The audio format can be wav, aiff, sun, ulaw and there is a wide range of accents to choose from, such as American, Scottish, British, Indian etc. This tool converts extremely fast and no registration or email address is required.
4

Zamar

Zamar seems to be an omnipotent conversion tool. It allows you to convert files, which you upload or specify a URL address, to various formats like image formats, doc formats or music formats. To use it as a text to speech converter, you can either specify a url or upload a document then choose the audio format you would like to convert and enter an email address to receive the files. It allows you convert up to 100MB. You can subscribe their premium service to get more advanced features such as more file size quota, more online storage, secure conversion etc.
5

SpokenText.net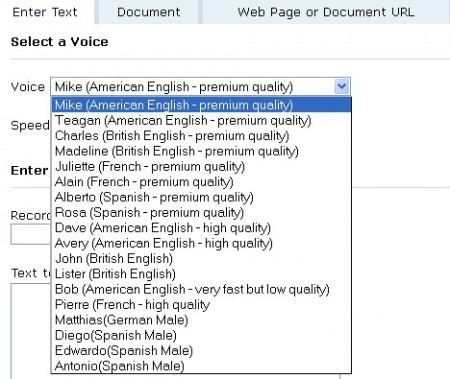 SpokeText lets you create recordings from text, document, web pages and email. They support American English, British English, Spanish and French voice with high quality. Also SpokenText comes with extensions for Firefox and Chrome for you to install and record whenever you browse a page by simply clicking the Record Web Page button in the tool bar. They will ask you to create an account to use it. Though it is easy, but the free account has limitations for file sizes, file formats and, too bad, it lasts for only 7 days.