A portable app is a computer program that is optimized so that you can store and run it from a portable device like USB flash drive, portable hard drive, iPod etc on any Windows computer. That means, you can take your favorite apps along with your personal data with you simply on a USB flash drive, and access them anywhere as long as there is a Windows computer to use. Also when you unplug the portable device, you data and history will not be left on that computer.  While there are portable apps for most daily used apps like browsers, players, etc, but not all applications are portably available due to various reasons like registry issues.  The following 5 websites  will allow you to find and download most portable apps over the Internet.
1

PortableApps.com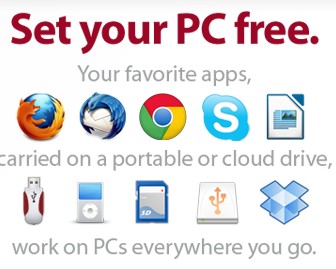 Portableapps.com is a must visit website for all the portable app lovers. Its portable app directory hosts hundreds of portable apps, which are categorized as accessibility, development, education, games, graphics, internet, music & video, office, security, utilities. For example, Under the internet category, you can find and download portable apps for software like Chrome, Firefox, Skype, Filezilla etc. It also offers a tool called Portableapps.com Platform, which allows you manage your portable apps easily. You can organize them by category or folder, add new apps with the portable app store, choose the look and color you want, auto update new apps available on Portableapps.com.
2

Liberkey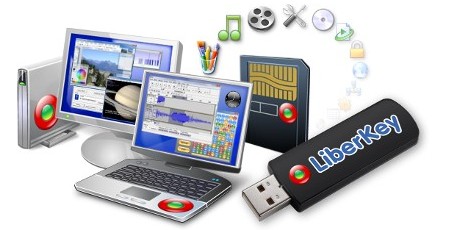 Liberkey offers a similar platform that hosts various applications. To use Liberkey, you first download Liberkey software and install it on your USB key, you can also install it on your hard disk if you like. Then it will prompt you to select and download from its well compiled suites, namely, basic suite, standard suite and ultimate suite. You can choose a suite according to your needs but still you can still choose to include an application or not. Then you can manage your applications, add more applications, or update all downloaded applications at one time. In addition to that, Liberkey has a unique feature called file association which allows you to associate files with the portable applications temporarily. For example, when you click on a PDF file, it will automatically start the portable application that can open it like Foxit Reader.
3

Pendriveapps.com


This website allows archives a huge list of portable apps like instant messenger, IRC clients, FTP tools, email software, RSS readers, VoIP tools, weather programs. Though applications are mostly for Windows, but there are also a few portable apps for Mac OX such as portable Cyberduck, portable Adium OX X. So If you are looking for a particular portable applications and don't want to install a few applications as a suite, you can check out this website, find what you need, install just what you want.
4

Portablefreeware


Portablefreeware.com is a personal collection of portable freeware since 2004. You can browse applications by categories or by searching. You can also view the rating for each application. If you don't find what you want, there is a forum for you to ask and suggest new portable applications.
5

Lupo Pensuite

Lupo Pensuite is similar to Portableapps and Liberkey and it offers a suite of portable apps for you to download which now includes more than 160 portable programs and games. Their suite comes with three versions: full version, lite version and zero version. The difference is that full version has lots of programs and games included while the lite version includes only the most useful ones and zero version has no applications included so that you can import and customize it according to your needs.