A temporary email address or disposable email address is usually used for registering on sites that you don't want to give away your real email address. As most websites or apps now require a registration or an email address for you to access their service or freebies and then after you do that, they will spam you relentlessly. So if you are to register on a website that you will only use it one time and you know well you will be spammed, you can get a temporary email address, with which you can still receive email address to confirm while not revealing your real email address.
1

mailinator

To use mailinator, you don't even need to go to their website first. You simply make up an email address like 5found@mailinator.com or anything. Just make sure that it ends with @mailinator. Then you can use this email address to register or sign up and if needed, go to mailinator.com to check out the inbox of the email address you just made up. For example, by typing 5found, you will be directed to the inbox of 5found@mailinator.com. After checking out the emails, you can forward it or delete it. If not, these incoming emails will be automatically deleted hours later.
2

Yopmail

Yopmail works exactly the same as mailinator, simply makeup any address ending with @yopmail.com and use it as a temporary email address. The differences are yopmail will keep your incoming emails for 8 days, which is longer than that of mailinator and you can also send out emails using yopmail but limited to yopmail email addresses.
3

10MinuteMail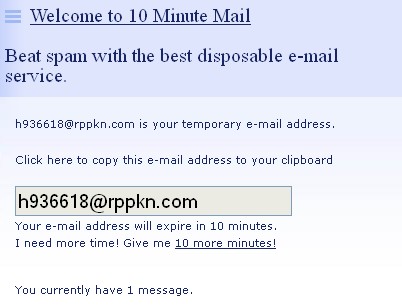 10MinuteMail will randomly generate a temporary email address for you to use and this address will expire in 10 minutes. During the 10 minutes, any emails sent to that email address will show up automatically on the page. You can read, click and even reply to that message. If you need more than 10 minutes, you can extend 10 minutes every time by clicking "Give me 10 more minutes".
4

Guerrillamail
Similar to 10MinuteMail, Guerrillamail will randomly create a temporary email address when you open their website.However, you can always edit the address by simply clicking on it. An email address will expire in 1 hour but you can extend it to more hours. When a new message is sent to the address it will automatically show below.
5

Jetable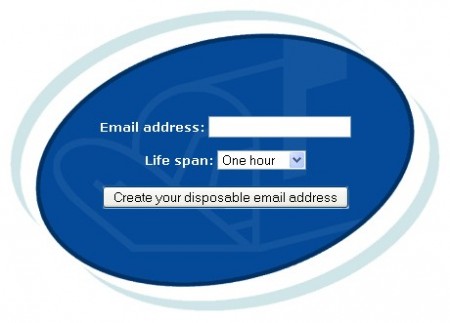 Jetable allows you to create an alias email address for your real email address and you can specify a lifespan for that alias email address as one hour, one day, one week or one month. All emails sent to the alias email address will be forwarded to your real address during the its lifespan. To get an alias email address, simply go to their website and enter your real email address then specify a lifespan and after you confirm the link sent to you, you will see your alias email address. Jetable is ads free and offered by the French non-profit association  APINC (Association for a Non-Commercial Internet).