In our previous post, we have covered 5 websites where you can download free fonts. Before using any of them, however, you need to first read its license information carefully and make sure that you can use it the way you like especially if you are going to use the font for commercial purposes. After checking, sometimes you will find either the license forbids you from using it commercially or it simply does not say it clearly whether you can use it commercially or not, and in this situation, you will always have to contact the designers first. This is not what you expect from a free font, right? So now, you may want to check out open source fonts, which will allow you to use the font any way you like, you can use it commercially, you can edit it and you can even distribute it. Here are 5 websites that allows you to download open source fonts.
1

Open Font Library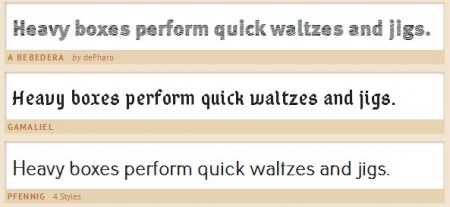 Open Font Library now hosts about 126 font families and 440 font files and the library is increasing daily as anyone can contribute to this font library. You can preview the fonts in word mode, sentence mode or paragraph mode, or simply by entering your own text before downloading a font. You can also embed any font on your website without hosting them yourself by simply adding a short code.
2

The League of Moveable Type

The League of Moveable type was founded by two web designers who aims to raise the standards of web design and provide open source fonts that of good quality and ready for @font-face. Though there are not many fonts available now, you will definitely love those gems.
3

Google Web Fonts

Google Web Fonts mainly offers high-quality fonts that you can embed in your websites, blogs using the Google Web Font API. All fonts are released under open source licenses, and you can use them on any non-commercial or commercial project. In addition to using it on the web via Google API, you can also download them to your own computer for other uses. There are about 501 font families ranging from Latin, Cyrillic, Greek to Khmer, Vietnamese scripts.
4

GNU FreeFont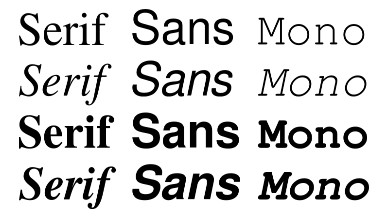 GNU FreeFont is a family of scalable outline fonts that can be used for general use on computers and for desktop publishing. This font family was created to cover as much as possible of the Unicode character set. Now it covers Unicode ranges for Latin, Greek, Arabic, Vietnamese, Devanagari, Bengali, Tamil, Braille etc. So, if your project needs an open source font that covers a very wide range of characters, this GNU FreeFont family may work for you.
5

FontSquirrel

FontSquirrel offers handpicked free fonts for both non-commercial and commercial use. Though not all fonts on FontSquirrel are released under open sources license, but they all can be used for commercial purposes and most importantly, they are all of good quality, which you can't expect from other free font websites.  Now Fontsquirrel hosts a total number of 773 font families ranging from Blackletter, Calligraphic, Handdrawn to script, typewriter etc.